Ghost image behind the first for sizing - must be here
About This Exhibit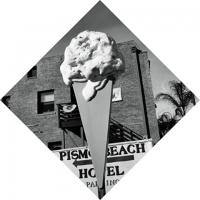 Pointer Series, Ice Cream Cone
Arthur Tress' newest series is called "Pointers". This black and white silver print series adds another dimension to his work.
Tress says about these photographs, "Pointers are a series of photographs made in the past two years that are done at a 45 degree angle. This creates a diamond shape format, much as Mondrian's "Lozenge" paintings. Shooting in this unusual shape changes the photographic boarder from one of containment and framing to one of dynamic cutting and asymmetrical segments."
The images are reminiscent in some ways to the Bauhaus school's imagery--simple but striking, but here turning reality into edgy abstraction.
Arthur Tress: Pointer Series
Exhibited and Sold By
Vintage Works, Ltd.
258 Inverness Circle
Chalfont, Pennsylvania 18914 USA
Contact Alex Novak and Marthe Smith
Email info@vintageworks.net

Phone +1-215-822-5662
Call for an Appointment